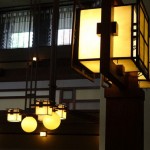 When it comes to planning and design, Chicago boasts an exceptionally rich history.
History enthusiasts will find the following sessions, mobile workshops, and events at APA's National Planning Conference of particular interest:
Hear Geoffrey Baer, Chicago's Journalist Historian
Geoffrey Baer has created fascinating video tours of Chicago history and the region for public television station WTTW and even hosts a special segment of Chicago Tonight during which he answers viewers' questions using video research. Always an informative and entertaining speaker, Baer will join a panel on Monday  at 9 a.m. for the session "Water Plenary Symposium: The Great Lakes Century."
Learn about Chicago's Urban Visionaries
Alison Fisher, assistant curator for architecture and design at the Art Institute of Chicago, will lead a session on Mies van der Rohe and other urban visionaries (past and present) who helped shape the city. The session, "Urban Design, Urban Landscape, Urban Plan," will be held on Monday at 10:30 a.m.
Take History-Flavored Mobile Workshops
Alison will also lead a tour of the architecture and design galleries at the Art Institute on Tuesday at 10:30 a.m. (Please note: This mobile workshop, "The Art Institute of Chicago: Modern Wing and Architecture and Design Galleries," is currently on standby status.)
Two other mobile workshops explore the works of a couple of design pioneers. One, "Frank Lloyd Wright in Oak Park," explores several Prairie Style-buildings designed by this acclaimed architect. The other, "Planned Riverside," will take participants to this historic planned community, the work of famed landscape designer Frederick Law Olmsted.
Attend the LHC Opening Reception at the Chicago History Museum
Founded in 1856, the Chicago History Museum is the Windy City's oldest cultural institution. Spend  Sunday evening of the conference by touring fascinating exhibits on Chicago's history while mixing and mingling at Local Host Committee Opening Reception, "Experience the Real Chicago." (Please note: Tickets to this event are available, but reserve your spot now as space is limited.)
Image: Frank Lloyd Wright's Unity Temple is one of the stops on the mobile workshop "Frank Lloyd Wright in Oak Park." Photo by Flickr user westher (CC BY 2.0).
By Carolyn Torma
APA Director of Education and Citizen Engagement
http://blogs.planning.org/conference/2013/03/15/explore-chicagos-rich-history-in-planning-and-design/