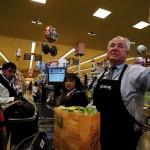 For Los Angeles residents, the perfect holiday gift this year might have been a reusable grocery bag. On Wednesday, large grocery stores will be prohibited by law from providing free plastic bags.
Shoppers will be required to bring their own bags when stocking up on food and goods, or pay 10 cents per paper bag provided by the grocery store. Smaller independent markets and liquor stores that sell groceries will become subject to the ban July 1.
In backing the new law, Los Angeles City Council members cited concerns that the flimsy disposable bags often end up on city streets and eventually find their way to the ocean, where they threaten fish and wildlife. With the council's June vote, Los Angeles became the largest city in the nation to ban plastic bags.
Nearly 90 cities and counties in the state — including unincorporated Los Angeles County — have passed similar legislation. Attempts to pass a bag ban at the state level have failed after lobbying by bag manufacturers, who claim that the pollution impacts have been overblown and that jobs would be lost.
In the months since the plastic bag legislation was approved, city officials have teamed with environmental and nonprofit groups in handing out hundreds of thousands of reusable grocery sacks for free. Many are made from recycled materials. Heal the Bay, a Santa Monica-based environmental group and ban supporter, acknowledged that some shoppers who reuse plastic bags to dispose of animal waste will miss them. On its website, the group suggests using old newspapers to scoop up dog waste during walks, or to reuse bread bags or produce bags, which will still be available.
"You can also use the cereal bag from the cereal box," said Sarah Sikich, science and policy director for Heal the Bay, which has been pushing for a bag ban for seven years. "People get creative when they have to."
Implementation of the law will take nearly 2 billion plastic carryout bags out of circulation just in Los Angeles, Sikich said.
"This is huge step," she said. "It really sends a message to other places, both nationally and beyond. Now Chicago and New York are looking at similar policies for their communities."
By Catherine Saillant
http://www.latimes.com/local/la-me-la-bag-ban-20140101,0,6885512.story#axzz2pDlAS9dn