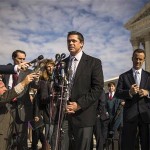 The Supreme Court on Wednesday appeared deeply conflicted over what kind of public prayers should be acceptable at a town meeting as the justices confronted the delicate constitutional issue of church-and-state separation.
The court is weighing whether the practice of allowing mainly Christian prayers before public meetings in the town of Greece, New York, violates the U.S. Constitution's First Amendment ban on government endorsement of religion.
Several justices voiced concerns about the difficulty of government officials policing the content of prayers to ensure that members of the public are not offended. Others focused on whether a town meeting should be treated differently from a legislative session.
Under existing Supreme Court precedent, prayers held in a state legislature do not violate the First Amendment. But the court has yet to rule specifically on other types of government meetings.
Although the policy in the upstate town of 100,000 does not embrace a particular religion, in practice all members of the public who gave a prayer were Christians until residents filed suit in 2008.
Susan Galloway, who is Jewish, and Linda Stephens, an atheist, filed the suit, saying the practice made them uncomfortable.
Justice Anthony Kennedy, often the swing vote in high-profile cases on the nine-member court, seized on one area of contention when he noted that it might appear odd for the court to treat a state legislature different from a town meeting.
"I don't think the public would understand that," he said.
As for the content of prayers, Justice Samuel Alito pointed out the difficulty of appeasing not just Christians but also Hindus, Buddhists, Muslims and people of other religious faiths.
"I just don't see how it is possible to compose anything that you could call a prayer that is acceptable to all of these groups," he said.
Justice Elena Kagan appeared skeptical that the court could reach a conclusion that would resolve the question in an acceptable way, noting that previous court rulings had been unpopular.
"I think it's hard because the court lays down these rules and everybody thinks that the court is being hostile to religion," she said.
The Supreme Court ruled in a 1983 case, Marsh v. Chambers, that legislative sessions could begin with a prayer in most circumstances, citing the "unique history" of the practice throughout U.S. history.
Despite that precedent, the 2nd U.S. Circuit Court of Appeals in New York ruled against the town in May 2012. A district court had previously supported the town's position by dismissing the lawsuit filed by Galloway and Stephens.
A ruling is expected by the end of June. The case is Town of Greece v. Galloway, U.S. Supreme Court, No. 12-696.
Reporting by Lawrence Hurley; Editing by Howard Goller and Douglas Royalty
http://www.reuters.com/article/2013/11/06/us-usa-court-prayer-idUSBRE9A510K20131106