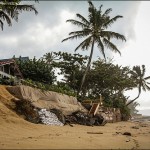 Residents of Rocky Point on Oahu's North Shore spent much of the last week scrambling to save their homes as 25-foot tall waves crashed offshore, sending frothy sea water to claw at their lanais, expose concrete foundations and threaten to pull entire houses into the sea.
Amid forecasts that another round of high surf may strike this weekend, at least seven homes teeter on the edge of 10-to-15-foot drops.
The damage exposes Oahu's long-term inability to adequately regulate construction on its shores. Hundreds of homes, businesses and pieces of island infrastructure have been built too close to the ocean.
And with scientists forecasting that coastal erosion will worsen in the coming years, the state's failure to prepare for the future leaves beachfront residents increasingly vulnerable, state and county officials concede.
"Why didn't they think about (coastal erosion) when they built roads, sewage treatment plants and residential communities? They did it right next to one of the most hazardous places we have," lamented Sam Lemmo, head of the Office of Conservation and Coastal Lands for the state Department of Land and Natural Resources.
Lemmo, who has been fielding calls from panicked North Shore homeowners asking for assistance, added, "Now, to throw kerosene on the fire, we have (man-made) global warming."
A Piecemeal Response
Hawaii has had laws and policies in place since the 1970s that aim to protect public beaches and mitigate the effects of erosion on coastal development.
But past government reports indicate that there is a lack of inter-agency collaboration and a failure to develop a clear plan to address the thorny issues raised by homes built too close to the shoreline.
The result: desperate owners aren't sure who they should turn to when the ocean threatens their homes.
And government officials make decisions on a case-by-case basis about whether homeowners can protect their houses or not, sometimes accepting efforts to save homes at the expense of the actual beach.
The legacy of past decisions is clear along Oahu's Black Point, Gold Coast and in Lanikai where multimillion-dollar homes are protected by seawalls that have facilitated the erosion of much of the disappearing public beach
Government officials will soon need to decide where they stand on threatened homes on the North Shore that could greatly affect Sunset Beach, known for its beauty and world-class waves, said Lemmo.
We will "have to start making decisions that could … set the future for that area," he said. "So we have to be careful how we handle the situation and not make the wrong decision. But it's complicated because these are people's properties, their life investments."
Recipe for a Last-Minute Scramble
The problem of North Shore beach erosion isn't new. Several Sunset Beach homes were destroyed in 1969 by a powerful storm, noted Dennis Hwang, an attorney and coastal hazard mitigation specialist. He said the homes were later rebuilt.
And in the 1980s, the county discussed increasing the setback distance that it requires of houses near the ocean. But such proposals were scuttled because property owners worried that if their homes were damaged, they wouldn't be permitted to rebuild them on their land under the new law, said Hwang. As a result, coastal development has continued to use the insufficient legally mandated setbacks for another three decades.
Lemmo said that his department is hoping to implement a relocation program for vulnerable coastal homes, but more studies need to be done and solutions could be expensive.
In the meantime, the absence of a comprehensive coastal erosion policy has created a recurring sequence of events. Homes are built too close to the shoreline and then they are threatened by changing weather patterns and increasing erosion. Panicked homeowners react by asking the state or county for help. Often, government officials acquiesce and allow the homeowner to erect a seawall or "harden" the area in front of their home with materials that create sloping walls. This protects the home, but leads to even greater erosion along the beach.
"The present system is almost entirely reactionary and contentious," according to a state report detailing Hawaii's response to coastal erosion. "Because there has been little to no planning for long-term shoreline change, the response is always time-critical and completely reactionary every time a property owner or agency encounters an erosion event and potential property damage is apparent."
That report was written during former Gov. Linda Lingle's administration. But years later, that assessment is still true, says Lemmo.
Almost one-tenth, or 13 miles, of once-silky beaches in Hawaii have been lost to erosion during the past century, according to a recent report from the University of Hawaii's School of Ocean and Earth Science and Technology. One report from the state estimates that 25 percent of the sandy beaches on Oahu have been lost. The biggest culprit is shoreline hardening.
Shorelines are dynamic and sand needs room to naturally move around and be re-deposited up and down the coast in order to have a healthy beach. When structures or seawalls are built too close to the shoreline, it can pinch the beach and lead to further erosion down the shore.
Kauai and, to a lesser extent, Maui, have revised their setback laws to take into account the long-term needs of shorelines. But Oahu has failed to follow suit even though reports show that it's been known for years that the county's setback policy is inadequate. A recent report funded by DLNR and the county provides precise information about erosion trends on Oahu, said Lemmo.
Jesse Broder Van Dyke, a spokesman for the mayor's office, said that Kirk Caldwell's administration had no immediate plans to propose increased setbacks, "but wants to hear from the community and city council members in light of the latest erosion event."
Responding to Eroding Beaches
The state now discourages seawalls, said Lemmo, and a homeowner must go through an extensive process, including environmental studies and public review, in order to receive a permit.
But the state's jurisdiction only extends to the edge of public beaches. The county can allow homeowners to build walls at the front of their property, but this leaves county officials in a more legally vulnerable position.
If the county refuses to allow a home damaged by erosion to rebuild, it can be considered an illegal "taking" of property, said George Atta, director of the city's Department of Planning and Permitting.
On the other hand, the county may be legally responsible if it allows a homeowner to rebuild their home, but at the same time doesn't allow her or him to build a seawall. "Is the city liable because we allowed them to rebuild without protection or hardening of the shoreline structure?" said Atta.
Atta says this leaves the county in a predicament in which it must balance the interests of property owners and Oahu's public beaches, which are critical to the economy and the environment, while trying to limit the government's exposure to litigation.
Once the county approves a seawall, it's a slippery slope, he said, because "it will start a domino effect down the beach."
"We are very well aware that once we start one seawall, we will probably end up with a line of them in 20 years. It's been a constant problem."
Atta said that the North Shore homes will be dealt with on a case-by-case basis, while acknowledging that the county likely needs to work on a more comprehensive policy to deal with coastal erosion.
It is uncertain whether or not the North Shore homes, which were built on a sand dune, can even be restored.
And it is even less clear where the property lines associated with those houses will end up.
State law mandates that public beaches reach up to the high-water mark at high tide. But this line can migrate and this week it would technically be right at the wall of some North Shore homeowners' homes. If the state re-certifies the line further mauka, in essence claiming more beach for the public, this could stir up a host of legal battles, said Leo Asuncion, program manager for Hawaii's Coastal Zone Management Program.
"There is the question of: has the state taken property, even though it is unusable property? So right there, there is a dilemma because the general public got more beach but this guy lost his property. So what do you do with that?" he said.
As the swell intensified last weekend, such public policy questions were far from the minds of local residents who were just trying to salvage as much of their homes as they could.
Aided by neighbors and private contractors, they desperately piled sandbags in front of the homes. A bulldozer illegally dropped massive boulders onto the shoreline. And residents of one wood cottage gradually sawed off about 45 feet of their lanai, letting segments drop into the ocean, in an attempt to keep the rest of the house from being dragged down into the water.
The situation was hazardous. Waves hurled heavy wooden planks with sharp nails jutting out and concrete slabs back onto the shore where workers were barricading homes from the rising water. State officials warned beach-goers to stay away from the water.
By Monday, the swell had dissipated and at least parts of the homes appeared to be safe — for now.
But another swell is expected this weekend.
As for the illegal boulders, Lemmo said that homeowners could be fined $15,000 a day. Although, for now, that scenario is unlikely.
"These guys are really in shock," said Lemmo. "So obviously, we are not going to rush in there with a cease-and-desist order today. But at some point, when things calm down, we're going to have to address that issue."
By Sophie Cocke
http://www.civilbeat.com/articles/2014/01/03/20787-washed-away-huge-north-shore-waves-reveal-hawaiis-public-policy-gaps/