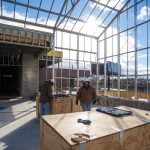 GRAND RAPIDS, Mich. — The idea of building a year-round public market to tie the city's skilled chefs to the region's big complement of young farmers had already attained an air of inevitability by the time this Midwestern city held its first Restaurant Week three summers ago.
The Downtown Market under construction in Grand Rapids, Mich., will be a center for commerce in culinary arts and food.
Next year, just in time for the fourth annual Restaurant Week, Grand Rapids is scheduled to open the $30 million, 130,000-square-foot Downtown Market, a destination that is expected to attract 500,000 visitors a year. The three-story brick and glass building, under construction in a neighborhood of vacant turn-of-the-20th century warehouses, is intended by its developers to be a state-of-the art center of commerce for the culinary arts and fresh local foods.
It is also seen as having the potential to accomplish much more.
"This project fills a variety of needs," said David Frey, chairman of the Frey Foundation and co-chairman of Grand Action, a nonprofit group of local business leaders that joined the city's Downtown Development Authority to raise money for the market and to build it. "It creates a lot of synergy for the development that's been happening in Grand Rapids for some time now."
The Downtown Market, in effect, is the newest piece of civic equipment built here since the mid-1990s to leverage the same urban economic trends of the 21st century — higher education, hospitals and health care, housing, entertainment, transit, and cleaner air and water — that are reviving most large American cities.
Few small cities, and possibly none in the industrial Midwest, have been nearly as successful. One reason is the distinctive partnerships formed between this city's redevelopment agencies and wealthy industrialists and philanthropists. Hundreds of millions of private dollars have been raised here to build a downtown that encourages entrepreneurs, develops career-track jobs and attracts new residents.
The civic projects built in the urban core by public-private partnerships since 1996 include the 12,000-seat Van Andel Arena, the $60 million new home for the Grand Rapids Art Museum, the $220 million DeVos Place convention center, $1 billion in hospitals and the new headquarters of the Michigan State University College of Human Medicine, several parks and the downtown campus of Grand Valley State University.
This small city, Michigan's second-largest behind Detroit, was floundering a generation ago with a shrinking and aging population and poor job prospects for young people.
But it has been transformed. Today, Grand Rapids is full of young professionals in good careers, who enjoy a low cost of living, first-rate restaurants with locally brewed beer and a variety of residential options near work. The population has rebounded to nearly 190,000, from a post World War II low of 181,000 in 1980, and the region's jobless rate fell to 6.7 percent in September, 1.8 percentage points below a year ago and well below the state rate of 9.3 percent, according to the Bureau of Labor Statistics.
"One of the elements that serves what we're doing here is to build pedestrian corridors downtown," said Mike VanGessel, president and chief executive of Rockford Construction. Rockford has invested more than $60 million to convert 13 mostly vacant warehouses and office buildings near the Downtown Market into 400,000 square feet of residential, retail and office space. One of the projects is GRid 70, a four-story office building a few blocks north of the market, where top designers for the region's sport shoe and office furniture manufacturers work.
"The people this city attracts now want to be near things," Mr. VanGessel said. "They want to walk, not drive. The Downtown Market is close. It's part of the answer to, 'How do we keep doing the next right thing for retaining our talent?' "
It turned out that the next right thing was to focus on fresh local food. Like hundreds of other cities, Grand Rapids has an outdoor seasonal farmers market that operates on Fulton Street four days a week. The Downtown Market fills what city leaders saw as a different need — a year-round, seven-days-a-week public market that would be a place to shop for local foods and a destination for residents and visitors.
The Downtown Development Authority and Grand Action looked to Boston's Faneuil Hall, the market in Grand Central Station in New York, the Ferry Building in San Francisco, and Detroit's Eastern Market as institutions that encouraged commerce and civic spirit by acting as urban squares. Good local food set the table, so to speak.
The design plan for the Downtown Market includes space for food production and processing, a commercial kitchen to provide an incubator for new businesses and another to educate students in food preparation and healthful eating. A greenhouse will occupy the roof and two restaurants are planned. Enough space is available indoors and out for banquets, civic events and more than 60 vendors. The market was built with nontoxic materials, and has advanced systems for energy efficiency, natural lighting, waste management, recycling and water conservation.
A feasibility study, completed in March 2010 by Market Ventures of Portland, Me., found ample reason for Grand Rapids to pursue the project. Some 12,220 farms in the 11-county agricultural region that surrounds Grand Rapids bring in a total of $2 billion in annual revenue. Many of the growers produce fruits and vegetables, including specialty crops, for sale at a public market.
The study forecast that the Downtown Market, which occupies a 3.5-acre site close to highway exits and the Grand River, would achieve gross annual sales around $25 million, and generate more than 600 jobs. A small staff could manage the market, and its annual income is expected to total $2 million, with expenses reaching $1.5 million.
One measure of the market's popularity is that nearly 8,000 people have already signed on to a Facebook page supporting the market that was posted by an enthusiastic resident. Another measure of its visibility is that developers are adding 312 apartments, and 33,000 square feet of retail space in 13 new and renovated buildings in the neighborhoods closest to the Downtown Market, according to city figures.
The city's transit agency plans to build a $39.8 million rapid transit bus line, Michigan's first, the agency said. The line, with dedicated lanes and station stops, is intended to transport passengers from the suburbs to downtown much faster than an ordinary city bus route. Construction starts next year and a station stop is planned on Division Avenue, one block from the market.
Mimi Fritz, the market's new executive director, is hiring five staff members and developing a mix of local farmers, businesses, restaurants and programs to inhabit the building.
"It has to be good, feel authentic and develop into a distinctly Grand Rapids experience," she said.
Helping with those choices is Chris Muller, president of M Retail Solutions and a specialist in developing public markets. "We are being careful and selective about what goes in the market," he said. "People will come if it's a pretty cool platform for food."
http://www.nytimes.com/2012/11/14/realestate/commercial/grand-rapids-mich-bets-on-a-food-market-for-growth.html?pagewanted=1&ref=realestate&adxnnlx=1353434985-fg6ne2yWgUAJunjFFBJ0sg