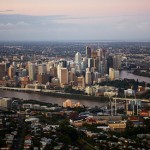 The Planning Institute of Australia (PIA) has joined with other development, planning and built environment groups in The Urban Coalition to push for the establishment of an Urban Infrastructure Fund, which they say is critical to help fund a backlog of more than $500 billion in infrastructure requirements.
A New Deal for Urban Australia calls for both leadership and investment to ensure Australia meets emerging urban challenges and secures city liveability in the future. The plan aims to attract institutional and retail investors to free up national and international savings to direct funding toward urban infrastructure.
PIA chief executive officer Kirsty Kelly said providing proper infrastructure for our cities is a planning priority for Australia.
"Australia needs to better manage population growth and this means finding a way to fund infrastructure required on a number of levels," she said.
Kelly said two key initiatives must be undertaken, including the establishment of the Urban Infrastructure Fund and "a stronger role for Infrastructure Australia through the establishment of the Department for Cities and Urban Development."
"The fact that there are ten industry groups making the call for A New Deal for Urban Australia says a whole lot about how important we all believe this is," she said.
The Urban Coalition is made up of the Australian Sustainable Built Environment Council, Australian Conservation Foundation, Association of Building Sustainability Assessors, Consult Australia, Green Building Council of Australia, Institute of Architects, National Growth Areas Alliance, Planning Institute of Australia, Property Council of Australia and the Urban Development Institute of Australia.
Kelly said A New Deal for Urban Australia provides an opportunity for investors to work in partnership with governments to boost national productivity and improve Australia's standard of living.
"We would like to see a stronger role for Infrastructure Australia and the establishment of a new Federal Government department which would incorporate the Major Cities Unit. It would work hand in hand with the sourcing of private sector dollars through the Urban Infrastructure Fund," she said.
"If we strengthen the roles of Infrastructure Australia and the Major Cities Unit we can ensure taxpayers and investors get the best possible return on every dollar invested in infrastructure. The governance overseeing Infrastructure Australia should be refined to better align with National Urban Policy and improve coordination with state and territory governments."
This follows on from the recent recommendations made by more than 50 global infrastructure leaders at a Melbourne workshop organised by the Australian Academy of Technological Sciences and Engineering (ATSE) and Infrastructure Australia.
Those leaders also suggested that significant changes are needed if Australia's infrastructure sector is to support the country's economic and social aspirations, with improved strategic planning, rolling 10-year infrastructure budgets and further transparency in decision-making topping their list.
By Justin McGar
http://designbuildsource.com.au/australian-planners-push-for-new-deal-for-urban-infrastructure