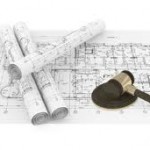 A BUILDER has finally admitted flouting planning laws after a dispute with neighbours dating back to the 1980s.
Brian Gage, of Dale View Avenue, was described by a judge as a "thorough nuisance" as he fined him for ignoring an enforcement notice issued by Waltham Forest Council.
The saga began in the mid 1980s when the 56-year-old was accused by neighbours of building on his land without permission.
Dale View Residents' Association said it continued to push for action, but it wasn't until this year that Gage was prosecuted for illegally turning a set of garages into a dwelling for his daughter and ignoring an order in 2009 to convert them back.
Gage appealed to the Planning Inspectorate over the order but it was upheld as his evidence was deemed unreliable.
On Monday Maria Loye, prosecuting, said: "In January this year there was still no compliance with the enforcement notice and the council officer took the view it was still being lived in."
Fining Gage £500 and £1,000 costs, Judge Lewis said: "People who breach planning law are a thorough nuisance in many ways and make fools of people who comply with the law.
"It's not impressive that you didn't do so for 18 months either, and the notice suggests it's still there. It seems to me quite right that you should pay all the prosecution costs."
Jonathan Wills, mitigating, admitted his client had a number of outstanding retrospective planning applications for other buildings on the site and said Mr Gage did not "stick two fingers up at the council".
Despite the successful prosecution, Gordon Wilkinson, a member of Dale View Residents Association, was not happy with the outcome.
He said the association has spent nearly £10,000 on legal fees on the issue.
"If he had been told to demolish the garages and building I would have been much happier," Mr Wilkinson added.
http://www.guardian-series.co.uk/news/10043087.Builder_fined___500_for_flouting_planning_law/