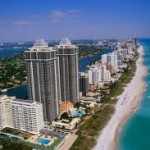 A controversial trolley garage being built in Miami's predominantly black West Grove neighborhood violates the Miami 21 zoning code, the ambitious blueprint approved three years ago to give order to the sometimes haphazard and inconsistent development in the city, according to the University of Miami's Center for Ethics and Public Service.
The garage, the center argues, should be considered industrial, not commercial as suggested by the city, and therefore not allowed.
"Industrial use includes government-operated," Zach Lipshultz, a fellow at the center's Environmental Justice Clinic, explained at a meeting of the Ministerial Alliance Saturday. "The question we're raising is in defining that government-operated facility. Why is it deemed a commercial establishment?"
Residents have been fighting to stop the 12-bay garage being built in the 3300 block of Douglas Road because it will back up against a single-family, residential neighborhood. The garage is part of a deal Astor Development struck with the city of Coral Gables to swap land. Astor wants to build a luxury 7-story apartment, office and retail center on Le Jeune Road where the Gables' current trolley garage sits.
Last week residents started an online petition and Saturday held a rally at the site. About 30 people, far fewer than organizers hoped for, chanted and held signs, including one that read, "Don't throw your trash in our neighborhood."
In recent weeks, the residents have been sparring with City Commissioner Marc Sarnoff, who brokered a deal with Astor to give $250,000 to improve football fields at nearby Armbrister Park to garner support. Sarnoff argues the zoning code permitted the garage and tied the city's hands. So he tried to make the best of a bad situation.
When he met with the Alliance, a group of 15 ministers working in the West Grove area, the group asked the UM law school center to look into it. Center director Anthony Alfieri also sits on its board.
At the meeting Saturday, about 40 people attended, including Miami planning director Francisco Garcia, Sarnoff, ministers, residents and football coaches.
"There's no need for me to shove anything down anyone's throat," Sarnoff told the group. "I could have kept my fingerprints off this and there would be no benefit at all."
Garcia explained that under the code, auto-related commercial uses are allowed.
"This particular trolley depot, under our code, is not an industrial use," he said. "The kind of work is so minor, it's essentially the same as would happen in any other car garage."
But Lipshultz, who had help from UM's architecture school, found that "government vehicle maintenance facilities" are considered an industrial use under Miami 21. And industrial uses are not allowed in the area.
Garcia conceded that zoning can be open to interpretation and ambiguous.
"Some areas are very clear cut and straightforward," he said. "Then there's a broad middle. This falls into the broad middle."
Garcia told the group he would look into the finding and "if we've made mistakes, we're happy to own up to it and learn from it."
In addition to looking at legal issues, Lipshultz also investigated health hazards and found solid evidence linking health hazards to diesel exhaust. The World Health Organization, he said, recently reclassified diesel emissions as a major carcinogen. If the garage is built, he said, it should be monitored for toxic emissions.
http://www.miamiherald.com/2013/01/12/3179454/controversial-trolley-garage-in.html