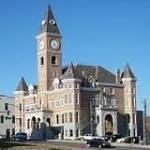 Washington County is moving closer to having its first zoning laws on the books.
For the first time as an entire board, the Washington County Plan Commission will review a draft of an ordinance establishing regulations for use of land in Washington County for agricultural purposes, including confined feeding operations (CFOs) and concentrated animal feeding operations (CAFOS). A committee, working with consultant Kari Keller-Steele, has been working on language.
"This is a high priority issue, so this is our first one (proposed ordinance)," David Hoar, president of the commission, said. "It seems to be a focal point, a lightning rod in the community with all the construction of poultry buildings."
A key word is draft; nothing has been finalized. The plan commission acts as an advisory board to the Washington County Commissioners, who make the final decision.
Hoar said at the Jan. 15 meeting, the plan commission will decide whether to take the ordinance to a public hearing.
"There will be two public hearings where people will be able to review it and make comments on it," Hoar said.
Following the second public hearing, Hoar said plan commission members will decide whether or not to send the proposal to the county commissioners. The commissioners may decide to adopt the ordinance or may opt to send it back to the plan commission for more work.
Hoar said the ordinance falls short of what he had hoped for because it does not address site location, taking into consideration such things as soil types and topography.
"The ordinance we have right now, I feel is a very watered down version of some of the drafts we've had before," Hoar said. "I'm not saying it won't address some of the issues (but) I don't think it does very much for site location and that's a concern of mine. I feel that's a high priority issue."
John Mishler, a former county commissioner who has been serving on the plan commission, said some of the key provisions of the draft include a requirement the plan commission be notifed in the event a poultry operation involes 18,000 or more animals.
Other provisions are a 200-foot setback requirement for poultry operations from all property lines, including roads. Also proposed is a 400-foot setback requirement from existing residences. A set-back refers to spacing distance between different land uses.
Mishler said a section pertaining to reciprocal setbacks, which means a neighboring property owner would be subject to the same setback requirements as an adjoining property owner, has been removed. Reciprocal setbacks are opposed by at least one of the county commissioners, David Brown.
Brown said if a property owner wants to build a home close to a chicken house that is located on his or her neighbors property, that individual should be able to do so.
The ordinance is the first step taken by the plan commission to put into place regulations that are intended to support the county's comprehensive land use plan. The commission has spent more than a year working out language.
Hoar said initially, there was a discussion about putting in a scoring system to help determine whether or not a site was a good location.
"That (idea) got a lot of con- troversy, some people thought it was too restrictive," Hoar said. "I felt like we were on the cutting edge of where we needed to be. We need to think about where these are going. I think we lost all that."
Although the ordinance does not address all of Hoar's concerns, he called it a start.
"I'm looking in the future – this ordinance will probably be amended also," he said.
Other issues that soon may be on the plan commission's agenda are mobile homes and rural housing".We're tackling this ordinance and getting our feet wet," Hoar said. "Then we'll decide what to tackle next."
Next Tuesday's meeting is at 7 p.m. at Salem City Hall. The public is invited to attend.
By MARCIA WALKER
http://www.salemleader.com/main.asp?SectionID=2&SubSectionID=20&ArticleID=5932