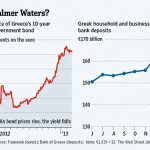 Investors Are Showing a Sense of Confidence, Promising New Money to Economy in Need of Cash
ATHENS—Foreign investors are returning to Greece as fears of an exit from the euro zone recede, signaling a possible turning point in the country's three-year-long debt crisis.
Amid a general rise in investors' willingness to buy riskier assets world-wide, everything from Greek real estate to energy stocks are finding buyers, promising investment in the country's cash-starved economy.
A steady trickle of foreign money pumped €109 million ($143.8 million) into Greek stocks in the last six months of 2012, followed by an additional €27.6 million in January, according to the Athens Stock Exchange. That money helped lift Greece's major stock index 33.4% last year, making it—bizarrely—the best-performing stock market in the European Union. It is up an additional 10.51% this year, to 1003.32, although it remains well off its high of 6355 reached more than 12 years ago.
At the same time, bond yields are falling. Yields on the few government bonds that remain in private hands following a debt restructuring last spring have in recent weeks sunk to levels last seen in late 2010, the year Greece got its first bailout. And for the first time in three years, Greek companies are selling bonds.
All of this marks a sea change from six months ago, when fears of a Greek exit from the euro zone and a subsequent end to the common currency sent global financial markets reeling, and slammed shut all private financing to Greece. Now, a new sense of confidence in the country and its government is signaling that Greece may be coming out of its tailspin.
Despite seeing revenue drop amid the country's steep recession, the general government deficit in 2012 was reduced in line with targets, to €12.9 billion from €19.7 billion the previous year, according to Finance Ministry data.
Investors now believe "in a way they haven't before" in the ability of Greece to deliver the reforms that are a condition set by international creditors to keeping funding lines to the country open following a renewed sense of trust in the coalition government, said Richard Deitz, president of VR Capital Group, a hedge fund specializing in distressed assets.
"We have been investors in Greece, and we continue to look at Greece as a source of investment opportunities," he said, without disclosing specific investments.
To be sure, it could all go sour again, should social or political tensions erupt anew and derail the fragile three-party governing coalition's reform program.
Indeed, the economy is expected to contract by 4.5% this year and unemployment is already a staggering 27%. More than nine in 10 households have seen a significant drop in disposable income since the start of the crisis in 2010, while tens of thousands of business are expected to shut down this year, according to traders.
Another risk is trouble in another euro-zone country that could send investors scurrying for safety. A simmering political scandal in Spain and the outlook for reform in Italy following elections that wrap up on Monday are among the bigger worries; both countries have their own financial problems.
And there are also broader concerns about the economic health of the 17-nation block. When February's preliminary reading of purchasing managers indexes for euro-zone countries slumped to a two-month low, major European stock markets skidded. Greek stocks fell more than 4%.
For now, though, investors appear focused on the good news, including the €49.2 billion aid package that euro-zone leaders signed off on in December that went toward bank recapitalizations and financing state spending, such as pensions and salaries. Economic confidence is close to two-year highs, local banks have amassed some €15 billion in new deposits since June as once-nervous customers returned, and the government hit key budget targets last year—a first since the crisis began.
Improving market conditions prompted Greek regulators last month to largely lift a 17-month ban on short-selling in stocks, put in place during the depths of the crisis to make it harder for investors to bet on falling share prices.
In the debt markets, a three-year freeze on Greek corporate bond sales has begun to thaw.
Hellenic Telecommunications Organization SA, HTO.AT -4.05% now a unit of Deutsche Telekom AG, DTE.XE -1.30% raised €700 million through a five-year bond late last month. In addition, Greek dairy-products company Fage issued a $250 million bond in December and Titan Cement TITK.AT -1.49% sold a €200 million bond issue in January. This month, Eurobank Ergasias SA, EUROB.AT +6.23% Greece's second-largest bank by assets, borrowed €6 billion through Europe's interbank market, the first time in several years that foreign banks have been willing to lend to a Greek bank.
Foreign private-equity funds are eying Greece. Several are competing for the planned privatization of Greece's gambling monopoly, OPAP SA, OPAP.AT +0.46% while New York-based NCH Capital spent €100 million for a government-owned seafront property encompassing some 5.3 million square feet on the tourist island of Corfu. In January, specialty private-equity firm Rhone Capital made an offer to buy out Greece's S&B Industrials, a century-old, mostly family-owned miner, which the Greek company is considering.
A smattering of foreign multinationals have started to invest, drawn by labor costs that have fallen by roughly one-third since the start of the crisis.
West of Athens, U.S.-based tobacco giant Philip Morris International PM -0.34% is building a €3 million production line to mainly meet the needs of the Greek market with a view to possible exporting.
"We expect the market dynamics to improve once the economy strengthens and employment levels rise," spokeswoman Julie Soderlund said.
Consumer-goods giant Unilever ULVR.LN +1.10% is transferring the production of 110 products to Greece mostly from other Western European countries.
"We believe that investing now will pay dividends when the crisis finally ends," says Spyros Dessyllas, chief executive of Elais-Unilever Hellas. Greece "is now much more attractive to foreign direct investment."
By STELIOS BOURAS And PHILIP PANGALOS
http://online.wsj.com/article/SB10001424127887323864304578320431435196910.html?KEYWORDS=funds+greece