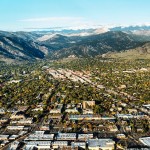 We had barely started our tour of the Chautauqua, Boulder's verdant 19th-century park, when my guide for the morning, local historian Carol Taylor, handed me the packet with the "cautionary tales." They were photocopied news articles, all from national publications, all featuring Boulder and all written–in Taylor's mind, anyway–by superficial out-of-towner nincompoops. "Namaste and Pass the Naan," read one's subhead. "You will be hard-pressed to find one person here, including your 85-year-old grandmother, without a six-pack," read another. Over four decades, as Taylor's packet meant to show, writers had missed the town for the lovely trees (and bike paths and mountain views)–unfairly reducing Boulder to a playground where smug eco-liberals puffed legalized marijuana and compared triathlon times.
"We're so much more complex than that," Taylor said. She gave me a gentle, pleading look. "Don't just go back and write that everyone rides their bikes everywhere."
Out from the gleaming sunlight, a Lycra-clad cyclist whizzed majestically by.
Let me just say, it's hard to keep a straight face when touring this idyllic mountain city–and interviewing its start-up founders and venture capitalists, its coffee-shop denizens and microbrew cognoscenti. It's so tempting to linger on the glorious hippie mane of the organic peanut butter CEO, or quote the impossibly outdoorsy venture capitalist ("I only invest in companies I can ride my mountain bike to!"). But I don't want to be unfair or stoop to caricature. It's not as if they were handing out free joints to everybody on Pearl Street, the city's main drag, on the day I arrived. (No, that was two days earlier. The event was called the Boulder Flood Relief Joint Giveaway.)
But easy as Boulder may be to mock, the city is impossible to dismiss. Boulder is an entrepreneurial powerhouse like no other. In 2010, the city had six times more high-tech start-ups per capita than the nation's average, according to an August 2013 study by the Kauffman Foundation–and twice as many per capita as runner-up San Jose-Sunnyvale in California. This vibrant culture has given Boulder a prosperous economy: Without the help of oil, natural gas, or any monolithic industry, Boulder County (population 300,000) ranks among the top 20 most productive metro areas in terms of GDP. Unemployment is 5.4 percent–almost two points below the national average and a full point below the Federal Reserve's goal for the nation. It is the home to a start-up incubator, Techstars, and a healthy venture capitalist community.
Boulder as start-up haven is not a new development, either. Since 1960, it has quietly nurtured nascent industries, including natural foods, computer storage, biotech, and now Internet companies. It's the original home of Ball Aerospace (one of the first NASA contractors), herbal tea pioneer Celestial Seasonings, StorageTek (later acquired by Sun Microsystems for $4.1 billion), and the biochemistry lab that led to Amgen.
But Boulder wasn't always so affluent, so collegiate, so pretty. The history of Boulder, the start-up haven, is a fascinating story of a community that built itself from scratch through a combination of individual effort, shared sacrifice, and counterintuitive choices (not to mention a near-constant urge to skip out of the office and get outdoors). Its success is a very specific, and in some ways limited, way of fostering a local economy. But it offers an unexpected solution to how cities all over the U.S. could make themselves a welcoming spot for start-ups.
When city fathers first laid out Boulder, the city was dry, barren, and unremarkable–a two-mile stretch of road at the mouth of Boulder Canyon that served as one of several mining-supply depots following the 1859 Colorado gold rush. Wrote Isabella Bird, a British travel writer, in an 1879 book: "Boulder is a hideous collection of framed houses on the burning plain."
But a streak of exceptionalism ran through Boulderites. They displayed a deep commitment to city beautification and education. In 1877, just six years after Boulder officially incorporated, citizens persuaded the state legislature to make it home to Colorado's first public university; 104 families donated land and money to build the campus. In 1889, the citizens voted to issue a $20,000 bond to build the Chautauqua, a place where visiting Texas schoolteachers could hike, picnic, and listen to lectures–a sort of bucolic TED Conference of the time.
In 1908, citizens hired landscape architect Frederick Law Olmsted Jr. (the son of the legendary creator of New York City's Central Park) to consult with them on how best to plan the city–a precocious move for a town of 10,000. His recommendations included putting wires underground and keeping streetlights beneath tree level, and he cautioned them about suburban developers, "dirty industries," and pandering to tourists. Above all, he said, Boulder must be beautiful–a prosperous town where people would spend their lives, not just make their money and get out. "As with the food we eat and the air we breathe, so the sights habitually before our eyes play an immense part of determining whether we feel cheerful, efficient, and fit for life," Olmsted wrote in his report.
Boulder might have remained a sleepy pretty college town, were it not for the communists. In 1949, fearful of a Soviet nuclear attack, President Harry Truman issued an order to stop the clustering of major buildings in Washington, D.C. The nation's basic research labs had to expand elsewhere. Boulder citizens, sensing an opportunity, bought up 217 acres of land and beat out 11 other cities to make that site the home of the National Bureau of Standards's new Radio Propagation Laboratory.
At first, the D.C.-based scientists bristled, considered it an exile. "They would say, 'Where do we go to see the Indians?' " says R.C. ("Merc") Mercure, one of the founding employees of Ball Aerospace, who was a physics graduate student at the University of Colorado at the time.
But the move put Boulder on the U.S. government's map. In 1952, the federal government made greater Boulder the site of Rocky Flats, a 27-building nuclear weapons manufacturing facility. After the Department of Defense ordered sophisticated rocket pointing controls from CU's labs, researchers, including Mercure, left to form Ball Aerospace, which filled those contracts and others. Eventually, the government made Boulder the site of the National Center for Atmospheric Research, and IBM moved its tape drive manufacturing division out there, which later led to the founding of storage start-ups StorageTek, Exabyte, and McData. On the backs of these technology jobs, Boulder's population doubled from 1950 to 1960 and then jumped to 67,000 10 years later.
By the late '60s, scientists weren't the only new people moving in. Across the country, the hippie movement was under way, and as suburban teens and twentysomethings started migrating to beautiful places across the country, many chose Boulder. (In the first half of 1968, drug arrests in the city doubled.) To Mo Siegel, a Colorado boy who had grown up on a ranch 80 miles away in Palmer Lake, the assembled flower children were his kind of people–and, in 1969, a potential market. A health nut already, the 19-year-old began gathering herbs in the foothills surrounding Boulder, filling up gunnysacks with chamomile and red clover blossoms, sewing them into little muslin tea bags, and selling them, in 1969, as Mo's 36 Herb tea. It would become the first year of business of Celestial Seasonings, the brand that became known for teas such as Sleepytime and Red Zinger. (Siegel eventually sold the company to Kraft, bought it back, and then sold it again to Hain Foods for $336 million.)
Celestial Seasonings was among the first of many natural-foods companies, including White Wave, maker of Silk-brand soy milk; Horizon Organic Dairy; and Alfalfa's, a specialty market akin to Whole Foods. For these sorts of entrepreneurs, Boulder was an ideal test market. Given its population of affluent, outdoorsy types, brands could test new ideas with a friendly group of consumers in the local markets, work out the kinks at low risk, and then take the successes to a more general market in Denver and beyond.
"I just got so much support. Everybody believed," says Siegel.
With industry picking up and the population booming, the city could have stoked the growth, welcoming developers in to build out new housing and offices. Instead, it did the opposite. In 1959, the city drew a line across the surrounding mountains, above which it would not provide water or sewer services–purely in order to protect the view. In 1967, residents instituted a special 0.4 percent sales tax to purchase "green space" around the city, stymieing developers, heading off major roadways, and preserving nature. Next, the city limited new housing starts to just 2 percent a year. Now the county manages more than 97,000 acres of open space. Boulder is in a bucolic bubble, with the Rocky Mountains on one side and parkland on the other.
Encircling the city with green space has had several implications for Boulder, some expected and some not. Though never exactly cheap before, the limited space has resulted in sky-high real estate prices–with a median price of $431,200, single family homes are 1.5 times as expensive as in Denver. Meanwhile, as the preserved space flourished, so did the deer population–and the hungry mountain lions, which commuted in to eat the deer and, occasionally, attack citizens of Boulder.
The green border, paired with the city's conservative zoning and development laws, has also meant that national retailers–or any monolithic competitor–have trouble finding good spaces to open in Boulder. Meanwhile, the city's hard line against expansion doesn't really allow its own start-ups to grow much past a certain size. The result? The town has made itself a physical incubator for small businesses. "After companies reach 500 employees, they either have to move out to the other side of the open space or sell," says Kyle Lefkoff, a general partner with Boulder Ventures since 1995.
But for those who can afford the housing, steer clear of the mountain lions, and squeeze into its limited office space, Boulder affords an incredible quality of life–along with a place to do business. The planning strategy, which at first seems antibusiness, simply favors those who are in it for the long haul–those who are thinking about raising families and living in Boulder until old age, and weeds out those that would dive in because of a juicy tax incentive.
There are entrepreneurs like Phil Anson, who came out after graduating from college purely to bum around and climb. A onetime line cook, he started selling premade burritos out of a cooler to support himself. In time, he found he liked scaling that business better than scaling rocks, and Evol Burritos, his 73-employee company, now distributes to supermarkets nationwide and rang up $12.4 million last year.
There were those who arrived in Boulder by accident and fell in love. Matt Larson, founder of Confio Software, moved there because his biggest investor told him he had to as a condition to getting funded (the man lived in Boulder and wanted to be chairman but didn't want to move). Alabama native Dale Katechis ended up in Lyons, the town just north of Boulder, after he and his wife ran out of money on the way to Montana. Katechis started waiting tables. Then he opened his own restaurant, Oskar Blues Brewery, and started brewing beer as a way to get his eatery's name out, and found the beer sold better than the food. (His brewery, which sells Dale's Pale Ale, made $33 million in sales last year.) Little Lyons "was like Mayberry in the mountains," Katechis says, his voice tinged with the last remnants of an Alabama drawl.
There are those entrepreneurs who moved to Boulder when they were older, when they already had money, almost as a reward to themselves. In 2001, the Wall Street day-trading firm where Kate Maloney worked opened an office in Boulder, simply because she and some co-workers thought it would be more fun. Six years later, she started TherapySites, a Web company she runs out of a loft apartment downtown. In 2006, adman Alex Bogusky moved a chunk of Crispin Porter + Bogusky, the advertising agency he co-founded, from Miami to offices in Gunbarrel, a town eight miles northeast of Boulder. To Bogusky, outdoor sports lovers and entrepreneurs share a common DNA: "Thrill seekers are drawn to this place," he says. "Once you get out here, you want the ultimate thrill in business, too, and that's start-ups." By the time Bogusky retired from the agency, the Boulder office of Crispin Porter + Bogusky had swelled to more than 700 employees–many of whom had moved from Miami.
And finally, there are those who came out of the University of Colorado and couldn't imagine going anywhere else. The most famous is probably Marvin Caruthers, who, as a biochemistry professor in 1980, helped start the biotech firm Amgen. His co-founders decided to put company headquarters in Thousand Oaks, California, but Caruthers kept a lab in Boulder. Since then, the University of Colorado has become a destination for DNA and RNA research. Veterans of his department, of Amgen, and of the university's biology departments would go on to start biotech firms, including Applied Biosystems, Dharmacon, Myogen, and Pharmion, companies that sold for more than $6 billion altogether.
I wish I could point to some municipal entrepreneurship program or other business initiative that enticed these people to start companies in Boulder. But the thing is, entrepreneurs claim the city stymies them more than it helps. Mundane parking regulations hindered business early on, says Niel Robertson, CEO of $12.6 million-a-year Internet advertising start-up Trada. The city, in its efforts to reduce congestion, gave Robertson's 17-employee company just three parking permits. (The company, which now has 15 employees, has since moved to a building with a parking garage.)
Anson, the burrito maker, says it took eight weeks just to get a permit to install a new refrigeration unit at his plant. "They're so conditioned to say no to everything," he says. "It's a massive pain in the ass." But leave town? No way. "It's a dual-edged sword," says Anson. "It's harder for me to run my plant, but it's also why people can't build mansions and block each other's views, so we have a balanced city."
Of course, Boulder's not perfect. Many businesses would struggle to exist there, especially those that require heavy equipment or a low-wage work force. Its regulations, and its constricted land area, heavily favor small companies. In fact, several start-ups, including Internet security firm Webroot and StorageTek, grew out of the town, choosing to move out to a sprawling office across the green space in neighboring Broomfield. But many other entrepreneurs decided to sell out and stay–and join Boulder's growing number of angel investors and venture capitalists, the next step in the city's development. Mo Siegel now invests in other natural-foods companies. Caruthers helped start Boulder Ventures, which invests almost exclusively in Boulder entrepreneurs.
All together, venture capital firms invested $587 million in Colorado in 2012–a far cry from major venture hubs such as Silicon Valley and New York City ($11 billion and $2.3 billion, respectively) but significant. They would rather do that than move to some tony retirement place–because in their minds, Boulder beats 'em all. That's the thing. Pretty much every entrepreneur told me he or she started up in Boulder or stayed in Boulder for that same reason: It's a beautiful place to live. And it's beautiful not because the city forefathers had some nifty pro-start-up policy–but because they had the foresight to plant lots of trees, welcome a university and federal science labs, buy up lots of parkland, and then stay disciplined about preserving the beauty they had created. The idea was simple: Make a city a great place to live, and people figure out how to make a living there.
http://www.inc.com/magazine/201312/boulder-colorado-fast-growing-business.html?goback=%252Egde_1961663_member_5822776672667066371/2