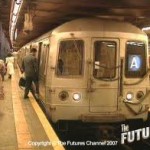 NEW YORK — New Yorkers love to complain about their subway system: It's too slow, too expensive, too dirty. And, worst of all, it's too difficult to understand why.
That part — the why — is gradually being answered as the Metropolitan Transportation Authority embraces and promotes the public dissemination of the massive amounts of data that the agency generates on everything from train delays to its budget.
A group that works to keep the MTA accountable is set to release findings on Tuesday from a long-term study titled "The MTA in the Age of Big Data," which looks at  the state of the agency's efforts to make data accessible to the public.
Such so-called open data is creating new lines of transparency and opportunities for tech savvy entrepreneurs to develop apps for smartphones and tablets. It is also giving at least those citizens with the technical wherewithal a peek into the inner workings of a public agency that has long been criticized for its lack of openness.
"The MTA has emerged as a leader in open data efforts, and while there's certainly still a long way to go, considering the amount of data they are dealing with, they're doing pretty well," said Sarah Kaufman of New York University's Rudin Center for Transportation Policy and Management.
Still, she said the agency has a ways to go before the tremendous amounts of data coming from the nation's biggest public transit system is simplified and fully user friendly.
Some transit advocates also believe the data should be used to create charts and other visualizations to show sources of income and to demand more funding for the public agency, especially given staggering increases in ridership.
"How many times have we been in conversations explaining to people why the MTA raised its fares, how many times have we explained that no transit agency in the country survives off its fares alone?" asked Ellyn Shannon, a transportation planner and staff member of the Permanent Citizens Advisory Committee to the MTA, which is releasing Tuesday's report.
The move by public agencies like the MTA to make available to the public data that was once almost impossible to obtain has been celebrated by open government advocates. In the transportation sector, observers see local agencies such as the MTA on the path to transparency. Still, understanding the nuts and bolts potential of what transparency in transportation means will require real and open collaboration between those releasing the data and those receiving and using it.
Before the virtual curtain was lifted at the vast public agency, software and app developers were at risk of copyright infringement and intellectual theft charges if they created programs with subway system maps or train line schedules. The MTA famously sued one Metro-North commuter who wrote a blog called "Station Stops" and developed an app of the train line's schedules. The matter was resolved in 2009 when the MTA dropped all its charges.
By 2010, the MTA appeared to embrace the mobile revolution with the launch of a redesigned website under the leadership of Jay Walder. In January of that year, the MTA started an open data feed. The fast flowing river of new information was a virtual gold mine for researchers and tech developers who could use all the data for projects they might be working on.
Months later, in what MTA has called a watershed moment, public transit officials held a conference with techies at Google headquarters in New York. There, the agency learned more about the potential ways it's vast troves of data could someday benefit and engage its riders — from tracking real time bus arrivals and train delays to understanding the pipelines where millions of dollars in MTA funding gets used each year.
Jeff Maki, director of operations at the nonprofit civic technology organization OpenPlans, said the MTA began to understand that software developers were better equipped to understand how its data could be used.
"The MTA does its job well. But the third party developer world is better equipped to respond to many of its app and technological needs," Maki said.
By July 2011, the MTA had launched its first app contest and, the following February, the agency had finalized a data feed that allowed passengers to know where and when trains run.
But even after opening its databases to the public, some remained far too complex to fully understand. For example, up until February, MTA budgets weren't keyword searchable.
Cate Contino, the Straphangers Campaign coordinator at NYPIRG, says even the smallest of technological innovations or tweaks to a data pool can mean a lot in helping make vast troves of data easier to navigate. Her organization has lobbied for a more "open" MTA since 1973.
"There are data sets now available at the MTA page that even I don't fully understand," Contino said.
Her group has worked with The New York City Transparency Working Group, which supports efforts to use information technology to make New York City government more open and accountable.
Ultimately, the goal of the transparency efforts are to get the greatest public value from the city's wealth of digital information.
"We've been requesting that the MTA expand its efforts and introduce performance measures and historical data that would allow researchers and academics to take a deeper look at what's been going on inside the MTA," Contino said.
That would allow the public and the agency to come up with solutions such as improving schedules — places where trains need to be cleaned more or other issues.
"We'd love to see a historical archive of capital investment projects and see how they've impacted the service and the overall transit riding community," Contino said.
Shannon said that part of the conversation should be that this is not an all or nothing proposal on open data. She said the MTA website, while a rich source of information, can prove unwieldy.
MTA's Donovan said the agency is looking at digitizing its budgets and making that information more readily available.
"At this time, they don't have a launch date, but they are aware of it, and looking at ways to make that might could happen," he said
For now, Donovan praises the push for a more open MTA and how it has engaged the riding public.
"It helps everyone in the public understand what we do both operationally and, administratively," he said. "Overall, the reaction has been very positive."
Shannon said it's also been exciting to see a new groundswell of interest in MTA affairs among younger New Yorkers. She noted that transit in New York City had for many years taken an adversarial tone.
Referring to one memorable transit advocacy meeting she had attended, she said "it was more a beat-up, not a meet-up."
Shannon and others agree that as more New Yorkers are able to better understand how funding deficiencies impact MTA services, interest will only continue to grow and the public will find itself even more engaged in MTA policy.
Perhaps, even, the public will come to grasp some of the complexities that face leaders who are running an aging railroad under the auspices of a giant public agency.
"Now there's this new group that has such a thirst for all the data, and learning about how the MTA works, and I think in a much more generous spirit than what we saw years ago," Shannon said.
by Cody Lyon
http://www.gothamgazette.com/index.php/transportation/4201-how-data-is-helping-riders-to-make-sense-of-their-transit-system