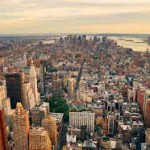 Despite the promised benefits, Fairfield County political leaders fear that a mandate to group towns and cities into larger councils of government for the purpose of infrastructure spending could invite higher taxes.
Under legislation approved in the spring, the leaders of eight towns that make up the South Western Region Metropolitan Planning Organization — including Greenwich, Stamford, and Norwalk — will have to merge into a new council of governments by 2015 to administer federal funds filtered through state transportation officials.
If further legislation were to authorize shifts in local tax revenue toward regional projects, some say the result could, in effect, create a county government system in Connecticut.
"It could happen this year or next year, but I think there is going to be a major play to redistribute resources," Greenwich First Selectman Peter Tesei said. "There is no doubt this is the proverbial camel's nose under the tent. And looking at how poorly Connecticut is doing financially, and the debt burden and taxes in certain communities, the Legislature and governor are going to look to for alternate means to feed the beast."
The chief elected officials in SWRMPO will meet Thursday at 8:15 a.m. at the Norwalk Transit District building, 275 Wilson Ave., Norwalk, to discuss their options for complying with the new law. Among the possibilities is a merger with the 10-municipality Housatonic Valley Council of Elected Officials, which includes Ridgefield, Danbury and New Milford.
Tesei said is unclear how a reorganized planning group might operate, but he said such consolidations can be accompanied by funding formulas that distribute resources based on population. Language accompanying the legislation suggests regions could assume area-wide responsibility for social services, housing, education, and public safety functions in the future, Tesei said.
"In a way, it is a masking of an alternate ways to tax people," Tesei said. "They've already maxed out state taxes and that's why the economy is so bad. They've beaten that horse down, so they get on another one."
Ridgefield First Selectman Rudy Marconi, who served as a member state-appointed commission that gave rise to the new organizational model, said he did not support the change. But he said most area leaders are committed to forging a new planning region that will preserve the interests of their towns.
"I'm not in favor of it," Marconi said. "But if we know it is going to happen and change, we want to change it in a way that is beneficial to our towns, rather than (being) told we need to change and what group we're in."
The Municipal Opportunities & Regional Efficiencies Commission, led by State Rep. Tim Larson, D-East Hartford, recommended a range of consolidations, including forming regional school districts for the purpose of providing special education to save money.
Martin B. Cassidy
http://www.greenwichtime.com/local/article/Planning-group-mulls-merger-mandate-4760379.php