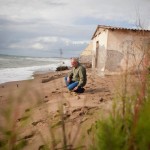 THE government inspectors set out from Athens for what they thought was a pristine patch of coastline on the Ionian Sea. Their mission was to determine how much money that sun-kissed shore, owned by the Greek government, might sell for under a sweeping privatization program demanded by the nation's restive creditors.
 What the inspectors found was 7,000 homes — none of which were supposed to be there. They had been thrown up without ever having been recorded in a land registry.
"If the government wanted to privatize here, they would have to bulldoze everything," says Makis Paraskevopoulos, the local mayor. "And that's never going to happen."
Athens agreed. It scratched the town, Katakolo, off a list of potential properties to sell. But as Greece redoubles its efforts to raise billions to cut its debt and stoke its economy, the situation in Katakolo illustrates the daunting hurdles ahead.
In the three years since the International Monetary Fund, the European Central Bank and the European Commission — the so-called troika of lenders — first required Greece to sell state assets, a mere 1.6 billion euros have been raised. Last Tuesday, European leaders said Greece needed an additional 15 billion euros in aid through 2014 to meet debt-reduction targets — partly because Athens has failed to make money on privatization.
Now, the troika may consider cutting an already lowered target for Greece to raise 19 billion euros by 2015 to about 10 billion euros as investors worry that Greece may have to leave the euro. The troika is requiring that Greece must still raise 50 billion through privatizations by 2022.
The I.M.F. estimates that those funds, should they materialize, will trim only up to 1 percent from Greece's debt, which is expected to rise to a staggering 189 percent of the nation's economic output in 2013, from 175 percent this year.
But with Greece's economy headed into its sixth year of recession, and unemployment at 25 percent, the nation's immediate goal is to lure any investment it can through long-term leases on state properties to create jobs and get money flowing into depleted public coffers.
"This could put the economy back in motion," says Andreas Taprantzis, the executive director of the Hellenic Republic Asset Development Fund, a new agency set up to hasten privatization. If investors develop land, restructure highways or build business parks, the activity would "help employment, which is a major issue for Greece," he says.
Indeed, privatization is one of the last hopes here for luring foreign cash.
Efforts stumbled anew last summer, when the government fell and two chaotic elections were held, amplifying fears of what is known in financial circles as a "Grexit" — a Greek exit from the euro. Investor confidence fell so low that a recent survey by the BDO consulting firm found that Greece was considered more risky for investment than Syria.
Yet as Prime Minister Antonis Samaras took steps last week to secure an additional 31.5 billion euros of bailout money from creditors, the thinking is that if one major asset can be sold now, investors will feel better about spending their money on Greece.
OFFICIALS are trotting out Greece's most tempting offer: OPAP, the highly profitable gambling company in which the government has a major stake. Its gambling agencies abound around Athens and in Greek villages. Last week, as the government went on a road show to China to drum up investor interest, eight bids landed, including one from a Chinese concern.
Still, Mr. Taprantzis's agency faces a daunting task. The idea of the country selling off its crown jewels touches a raw nerve here. Many Greeks say the government is buckling to decrees from the troika. Citizen protests have flared over nearly every state asset up for offer, including ones that have long bled cash — even if shedding them would help Greece's finances.
Others say the government is so desperate that prime assets will be sold too cheaply. In the case of OPAP, Greeks grumble about the government's logic in selling one of the few things that brings a steady stream of money to the treasury.
Given the culture of clientelism that pervades business dealings in Greece, others are concerned that properties will wind up in the hands of powerful Greek oligarchs who, these critics worry, may be waiting for an opportunity to get them at a cut-rate price.
 Questions swirled after a huge Athens media center and shopping mall built for the 2004 Olympics by Spyros Latsis, one of Greece's wealthiest men, was put up for privatization. The government had initially leased the property, Golden Hall, to Mr. Latsis' Lamda Domi firm in a 2007 deal worth about 320 million euros over 40 years. But this year, as real estate values plummeted, Lamda won an open tender for a new 90-year lease, paying the government 81 million euros in exchange for maximum additional payments of 32.4 million euros over the life of the contract.
The Greek blogosphere lit up with accusations that the government handed an influential businessman a prime asset at a loss. Mr. Taprantzis called such criticism naïve, because it failed to account for the net present value of the leases.
Still, Daniel Sahl, the head of bilateral relations at the Federation of German Industry, says there is a pattern of Greek "princes" profiting on deals at the expense of the state. "The question is whether Greek society and the Greek government are really interested in privatization or not," says Mr. Sahl, who advocates handing the task to an outside body that would operate free from Greek political machinations.
"If they are not, they should be honest," he says. "But if they are, they should work to get as much as they can out of the assets."
THE agency's mandate is to clean up legal obstacles tied to the huge package of assets being offered for concession. About 15 percent of the portfolio is stakes in banks and utilities, as well as the national lottery.
The bulk, however, includes properties that would require years to develop and wouldn't generate significant cash flow instantly. Approximately 30 percent comprises ports, airports, motorways and other infrastructure. The vast remainder consists of real estate — from a former royal palace to the Athens police headquarters — and prime cuts of land. These include beaches on the vacation playgrounds of Rhodes and Corfu.
Interest is high. Six bids — including one from Lamda — have been submitted for a site on Rhodes alone.
But even if investors are persuaded to part with their money, the properties must still be cleared of a thicket of complications.
"The reality is that the assets that have been allocated to the fund are not conducive to privatization," said a person who has been involved in the initiative and spoke on condition of anonymity, citing the sensitivity of the situation. "Nearly every one is fraught with problems."
For instance, while investors are expected to commit equity, foreign banks remain wary of lending for deals in Greece. Some financing must come from Greek banks, which are now barely making loans. More than 85 percent of the aide tranche of 31.5 billion euros that Greece hopes to receive this month is needed to recapitalize Greek banks.
And many assets are encumbered with legal issues. In many cases, such problems must be resolved through government decrees or politically charged legislation. This month, Parliament squabbled over a privatization law revoking the condition that the state retain a minimum stake in utilities and ports.
The measure, which barely passed, cleared the way to privatize assets like Greece's water utility. Yet even there, a new regulatory agency must be established, along with a public policy on how to price water.
The government owes the utility around 700 million euros in unpaid bills; when it will ever pay is unclear.
And then there is land: It is the bulk of the portfolio, and it comes with the biggest problems. Property registries are almost nonexistent in Greece, a curiosity that dates back to the Ottoman Empire. Ownership was almost never recorded, so investors could face potential lawsuits from people claiming land as theirs.
"Just imagine — the state doesn't know exactly what real estate it really owns," says George Katrougalos, a Greek constitutional lawyer who is currently a fellow at New York University. "It's a legal mess."
Worse still, Greeks built on state land probably while the government looked the other way. That was the situation that Mr. Taprantzis's agency found in Katakolo, a once-verdant beachfront near ancient Olympia. in the Western Peloponnese, where thousands of people squatted on state land without paying for or registering the property.
Local politicians enabled the activity. For decades, on days when national elections were held, hundreds of people would throw up cinder-block houses literally overnight. In exchange, locals supported candidates who would not sanction them or force them to pay taxes on the construction. Electricity was eventually brought in through political favors, and little by little, a community was established.
"Politicians turned a blind eye in exchange for votes," Christos Konstantopoulos, a spokesman for the mayor, said during a recent tour of the area.
The result: miles of beachfront property littered with the skeletons of shabbily built homes. Taxes went unpaid. Other homes had been spruced up over time, with porch swings, ornamental hedges and, in one case, a faux lighthouse with a small pool. "Everybody in town has a brother, a sister, an uncle or a cousin who lives here," Mr. Konstantopoulos said, calling the situation disheartening. "But now we're stuck with it."
The state lost untold income, including that from unpaid taxes, although residents are now forced to pay a property tax through electricity bills. Still, the area is a lost cause for privatization, as far as Mr. Taprantzis's agency is concerned.
NOW, the government is scrambling to set up an electronic land registry. It is a herculean task, though not insurmountable, Mr. Taprantzis says.
At Hellinikon, the old Athens airport site that is one of the largest land areas to be privatized in Europe, "the property is more or less clean," says Spiros N. Pollalis, the head of the project and a professor at the Harvard school of design. Property disputes have been fast-tracked for resolution, and the concerns of locals who feared excessive development have been largely addressed, he says.
If all goes well, some investor will spend six billion euros on a huge urban landscaping project to turn the 1,500-acre site into a vast business hub and pedestrian area, Mr. Pollalis says. That could draw innovative companies and generate more than 20,000 high-paying jobs.
Mr. Pollalis hopes that developers will see things his way, even if their goal is to maximize profit.
"In Hellinikon, we need not only a partner but someone who understands the needs of the Greek people," he says. "We do not want greed."
That was a concern of locals in the Afandou beachfront area of Rhodes, which was founded as a refuge in an era when pirates roamed the Mediterranean. Like Katakolo, some parts of the land were squatted on — a problem that blocked four previous efforts at privatization. The agency is bent on clearing the land titles, but that requires a ruling by Greek courts, which can up to a decade to occur.
Local residents wanted the Afandou plot transformed into year-round, sports-theme vacation attractions. Some are now trying to block privatization for fear that investors will erect cheap hotels, bringing only low-paying jobs.
Nektarios Santorinios, a representative of the left-leaning Syriza party who is heading protests, contends that the state was so desperate that it was accepting about 50 euros per square meter, compared with an estimated market value of 180 euros. "They are trying to sell the gold of Rhodes in a fire sale," he says. "Meanwhile, the money will just go into a black hole, which is the national debt."
BACK in Athens, Mr. Taprantzis says the government understands that it needs to show Greeks that they have nothing to fear from privatization.
The process could be a breakthrough for Greece that clears away deep-seated problems like the one in Katakolo.
"The state is not the best businessman," he says. "So privatization will be transformational in many respects."
Although any transition would be painful for vested interests, Mr. Taprantzis says, "we're discussing this as if Greece had another option." He paused, then added, "I'm not sure another option is there."
http://www.nytimes.com/2012/11/18/business/privatizing-greece-slowly-but-not-surely.html?pagewanted=1&_r=0