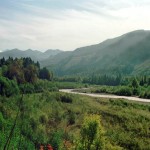 By DOUG SHERWIN, The Daily Transcript
Monday, November 5, 2012
A federal jury recently awarded the Academy of Our Lady of Peace $1.1 million in the school's land-use dispute with the city of San Diego.
Lawyers for the all-girls' Catholic high school claim the award is the largest religious land-use verdict in the history of California.
School officials filed a religious discrimination lawsuit in 2009 after the city declined to issue building permits for two new facilities Our Lady of Peace wanted for its North Park campus.
Our Lady of Peace's plans included a new science lab and a two-story parking structure that tops out at street level. The science building also featured an enhanced library/media center and additional classrooms.
The city said the school's plans involved the removal of two houses "of historical significance" in violation of the California Environmental Quality Act (CEQA).
The school's attorney, Daniel Dalton, a partner with the Michigan law firm Dalton & Tomich, said the structures would be built on land the school already owns, and they'd be modeled to look like residential homes.
"The Academy of Our Lady of Peace is elated with the verdict and now looks forward to putting this case behind and continuing to provide the highest quality education to the young women of San Diego," Dalton said.
The amount of the verdict reflects the increased cost of construction from the time the modernization project was denied in March 2009 until the date of the jury verdict. The school next plans to petition the court to order the city of San Diego to provide the permits necessary to move forward with its modernization plan.
A hearing on the request for injunctive relief is scheduled for Nov. 29. In addition, the Academy of Our Lady of Peace will be requesting the court to award its prejudgment interest, cost, and attorney fees in an amount that will total several million dollars.
http://www.sddt.com/Law/article.cfm?SourceCode=20121105czk&_t=School+wins+11M+award+in+landuse+dispute+with+city#.UKFDJ6X89UQ