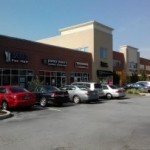 Under Olivette's existing land-use laws, a developer who wanted to build a shopping center with a coffee shop and a drive-thru window would have to find at least six acres of land for the project.
To put that in perspective, the Shops at Price Crossing with Starbucks and Fallon's Bar & Grill is a four-acre site. So is Olivette Center, with Party City and the Olivette Diner.
The city's Planning and Community Design Commission is considering changes in Olivette land-use that would ease that restriction and possibly encourage more businesses to move into town.
Carlos Trejo, Olivette's planning and zoning administrator, said the city council instructed the commission to review the existing laws, which govern "motor vehicle oriented businesses" and recommend changes.
"I can see where you have a built-out community like Olivette, to try and assemble six acres — there's not a vacant six acres," Trejo said. "That's a big cost that's incurred."
Trejo said Olivette is somewhat unique among nearby communities in having a category of land-use laws that govern "motor vehicle oriented businesses" such as those that include a drive-thru window. The existing law governs…
…any commercial use or activity which as a principal part of its operations provides goods or services to motor vehicles or occupants of motor vehicles in a short time span or which provides goods or services to occupants of motor vehicles remaining within the vehicles.  Such uses shall include, at minimum, convenience stores, filling stations and automobile service stations, whether singly or in combination.
Some businesses, such as pharmacies or banks, could have a drive-thru lane on fewer than six acres, but would need special approval from the city. A coffee shop would not be among them, for example.
Trejo said city staff has researched what other communities do to regulate land-use with such businesses.
"Many of them didn't reference 'motor vehicle oriented businesses'," he said. "We use this term and it's a pretty big umbrella."
And those that specifically reference these kinds of businesses do not require six acres of property, he said.
The Planning and Community Design Commission was scheduled to discuss the issue at its meeting Thursday evening, ahead of formulating recommendations for the city council.
By Kurt Greenbaum
http://olivette.patch.com/articles/would-change-in-city-zoning-encourage-more-businesses