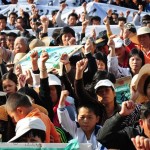 By Bloomberg News on November 13, 2012
Lin Zuluan, head of the council in the village of Wukan, has the same dinner interruption almost every evening. Unhappy residents come with complaints, almost always bringing up one topic: getting back their land.
A year ago, the villagers of Wukan, in southern China, were hopeful after they grabbed world attention when they took to the streets accusing local leaders of selling their land to developers. They forced the politicians out of office and won the right to elect their own representatives. Democracy hasn't helped them retrieve their land, said Lin, who was chosen for the council after the protests.
"I thought as long as we followed the law and legal procedures, we could solve it," said Lin, 68, speaking from his office, which has a tea set for visitors, in the three-story beige council headquarters in the fishing village. "It turned out to be more difficult than I imagined."
Grievances like those in Wukan, which have sparked thousands of protests across China, pose one of the most serious challenges to the Communist Party as Vice President Xi Jinping prepares to assume its leadership this week. While land grabs that squeeze farmers off their plots are the biggest cause of social unrest, a push to overhaul existing property laws faces opposition from developers, businesses and local governments that depend on land sales for revenue.
Take Less
Outgoing General Secretary Hu Jintao, forecast to remain as China's president until Xi takes that job in March, showed last week that China's leaders recognize the need for change. In a Nov. 8 speech opening the 18th Communist Party Congress, he said his successors must reform the "land expropriation system" and "give more to farmers and take less from them."
Xiaohui Wu, a land-tenure specialist at Landesa, a Seattle- based group that studies global land issues, said his organization has had "regular contacts" with Chinese government officials on legal changes that would make it harder for farmers to be kicked off their land and increase levels of compensation if they are. The proposed laws, which may be considered by China's legislature in March, would also give farmers more say in the land-appropriation process, he said.
"China's fast, low-cost industrialization and urbanization were made possible partly because farmers were forced to make huge sacrifices by getting only a small fraction of the true market value of their land taken by the government," Wu, who is based in Beijing, said in an e-mail. "This development model can't be sustained any longer."
Land Appropriations
About 43 percent of villages in China have experienced land appropriations since the 1990s and land disputes are the leading cause of social unrest in the country, Wu said. The number of so-called mass incidents — protests, riots, strikes and other disturbances — doubled in five years to almost 500 a day in 2010, according to Sun Liping, a sociology professor at Beijing's Tsinghua University.
China's rapid growth, which has averaged 10.6 percent in the past decade, has been built in part on land sales like those in Wukan. City governments have relied on real-estate transactions for much of their revenue because they have few other sources of income, such as property taxes.
China's government is studying an expansion of an experimental property tax system, the official Xinhua News Agency reported today, citing Minister of Housing and Urban- Rural Development Jiang Weixin.
Land is often taken from farmers, who receive meager compensation, and then sold by local governments to property developers for much more, said Wu. Local governments have been able to take advantage of real estate prices that rose 160 percent in the 1998-2011 period.
Farmland Taken
Council member Lin said as many as 1,100 acres of farmland were taken in recent years, as well as more for which villagers have no measurement.
The Wukan protests erupted in September last year over concerns that local officials were expropriating land from farmers and selling it off. They intensified after a local butcher involved in the demonstrations, Xue Jinbo, was arrested and died in police custody on Dec. 11.
"My dad's biggest wish was to get back the land Wukan illegally lost," Xue's 23-year-old daughter, Xue Jianwan, said in an interview in Wukan. "My father made a speech at a village rally, telling residents not to be afraid. He said, 'We will stick together, if someone gets beaten, let me take the first beating. If someone has to die, let it first be me.'"
Police Blockade
Having failed to quell the uprising, even after a two-week blockade of the town by paramilitary forces, officials in Guangdong province halted development on the some of the appropriated land and promised elections in the village. State media said the existing leadership had erred and praised provincial governor and Politburo member Wang Yang for his handling of the dispute.
"One year after disgruntled residents in south China's Wukan village staged a mass rally, progress has been evident in the village's self-governance," Xinhua said in a commentary on Sept. 21.
The new council now publishes its finances on posters hung around the village, including council members' salaries of as much as 1,800 yuan ($243) a month. The council holds open town meetings and construction has begun on a pipe that will bring running water to Wukan.
"The old village committee ruled us with fear and threats," said Zhang Bingcai, a seafood trader. "Not this one."
Wukan's Lessons
Wang Yang pledged at the national legislature in March to highlight the lessons of the Wukan case at a conference this year. Eight months later, no such event has been publicized. While Wang was considered a candidate to join the Politburo Standing Committee at the party congress by analysts surveyed by Bloomberg News in September, he is no longer a frontrunner, said Jean-Pierre Cabestan, head of the department of government and international studies at Hong Kong Baptist University.
Still, land is the main concern for Wukan residents. About 626 acres of farmland have been returned, although that's a fraction of what was taken, said Zhuang Liehong, 28, a council member who says he has tried to resign three times for failing to get the land back, only to be rebuffed by the council head.
Much of the land has already been sold off to developers, he said. A factory for producing air conditioners has been built on one piece of land.
The media department at the Guangdong province headquarters didn't answer a faxed request for comment. Two phone calls and an e-mail to the government in Shanwei, the city that holds jurisdiction over Wukan, also went unanswered.
'Already Gone'
"Once the land is taken it's already gone to somebody," said Andy Xie, formerly chief Asia economist at Morgan Stanley. "It's very unlikely these things could be unwound unless somebody goes to jail."
Compounding the situation, local governments use land as collateral for loans to fund their operations. Almost a quarter of local governments' 10.7 trillion yuan in debt by the end of 2010 was backed by land, according to China's National Audit Office.
Officials in the nearby town of Lufeng, who oversee Wukan's village council, have profited from the sales and are blocking the return of the land, Zhuang and other Wukan residents say.
"If the land issues are not solved this time, Wukan residents are likely to give up on democracy, and lose faith in elections," said Zhuang. "Who knows, they may take matters into their own hands and even protest again."
http://www.businessweek.com/news/2012-11-12/wukan-woes-show-land-reform-delay-risks-as-hu-leaves-task-to-xi