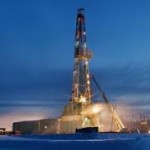 ALBANY, N.Y. (CN) – Communities opposed to hydrofracking can amend their zoning code to do so without running afoul of New York law, a state appeals court ruled.
The Appellate Division decided Thursday that New York's Oil, Gas and Solution Mining Law, which has regulated those industries since the 1960s, does not pre-empt new land-use ordinances adopted by Dryden, N.Y., a rural town just east of Ithaca.
"We find nothing in the language, statutory scheme or legislative history of the statute indicating an intention to usurp the authority traditionally delegated to municipalities to establish permissible and prohibited uses of land within their jurisdictions," Justice Karen Peters wrote for a four-member panel of the Appellate Division's Third Judicial Department.
"In the absence of a clear expression of legislative intent to preempt local control over land use, we decline to give the statute such a construction."
Citing this decision, the same panel also affirmed a zoning law in Middlefield, another upstate New York town about two hours east.
Hydrofracking is a controversial drilling process that involves pumping a mix of sand, water and chemicals under high pressure deep underground to break up shale to release the natural gas held there.
Parts of New York sit atop the Marcellus Shale, a formation that stretches from Ohio to Maryland and is thought to hold trillions of cubic feet of natural gas.
But high-volume hydraulic fracturing, as it is formally known, has been on hold in New York until the state Department of Environmental Conservation releases proposed regulations to oversee the practice. Those rules have been waiting on the state Department of Health's review of associated health issues.
Meantime, energy companies have lined up land leases for gas-drilling sites, while dozens of municipalities have enacted moratoriums or bans to keep the companies at bay.
In the Finger Lakes town of Dryden, the zoning code was rewritten two years ago to ban all activities related to the exploration, production or storage of natural gas and petroleum – including hydrofracking.
Middlefield, home to a part of the village of Cooperstown, did the same. The laws had reached the appellate division after energy companies with leases on Dryden and Middlefield land filed suit, and the Supreme Courts of Tompkins and Otsego counties upheld the local ordinances.
At the heart of its ruling, the appellate panel found that the Oil, Gas and Solution Mining Law prohibits municipalities from enacting ordinances to regulate the oil and gas industries – which is the purview of the Department of Environmental Conservation.
Rewritten zoning code, however, "does not seek to regulate the details or procedures of the oil, gas and solution mining industries," the Dryden ruling states. "Rather, it simply establishes permissible and prohibited uses of land within the town for the purpose of regulating land generally.
"While the town's exercise of its right to regulate land use through zoning will inevitably have an incidental effect upon the oil, gas and solution mining industries, we conclude that zoning ordinances are not the type of regulatory provision that the Legislature intended to be preempted" by the Oil, Gas and Solution Mining Law.
In writing that law, the New York Legislature sought "uniform statewide standards and procedures" that could help the oil and gas industries grow, according to the ruling.
Lawmakers included a pre-emption provision "to eliminate inconsistent local regulation that impeded that goal," Peters wrote. In addition to skirting express pre-emption under state law, the amended zoning codes also withstand the principles of implied pre-emption, which the energy companies used to argue that local zoning could interfere with state regulation of how far apart wells should be located to maximize resource recovery and minimize waste.
"Accordingly, respondents' decision to amend the town's zoning ordinance to prohibit the activity of hydrofracking does not conflict with the Legislature's intent to ensure that, where oil or gas drilling occurs, the operations are as efficient and effective as possible," Peters wrote.
Justices Leslie Stein, Edward Spain and Elizabeth Garry concurred in the decisions. Dryden originally was sued by Anschutz Exploration Corp., of Denver, which held oil and gas leases on 22,200 acres in the town. Prior to the appeal, Anschutz assigned some of the leases to Norse Energy Corp. USA, which then became the plaintiff in the appeal. Norse is an affiliate of a Norwegian energy company.
Deborah Goldberg of Earthjustice in New York City represented Dryden. Thomas West of The West Firm in Albany argued for Norse. The town of Middlefield was represented by John Henry of Whiteman, Osterman & Hanna in Albany. Scott Kurkoski of Levene, Gouldin & Thompson in Binghamton and Thomas West argued for the plaintiff in that case, Cooperstown Holstein Corp. Groups representing business, environmental, trade and farm interests submitted amici curiae briefs in the two appeals. More than 50 cities, towns and villages did, as well.
By MARLENE KENNEDY